Antigua & Barbuda
Citizenship by Investment
With its 365 beaches, idyllic landscapes, safety and exceptional environment, Antigua & Barbuda attracts more than 250,000 visitors a year. Several celebrities have chosen Antigua for their second home, such as Eric Clapton, Oprah Winfrey, Robert De Niro or members of the Versace family. In order to diversify its economy, the Government of Antigua proposes citizenship through Investment.
Our customers
Our services are only for a VIP clientele composed of business people and Top-Executives.
Are you alone? In couple? Do you have any children?
Do you want the freedom to travel internationally without a visa? Do you want more security and a plan B?

The Antigua & Barbuda Citizenship Investment Program will meet your needs
Why Antigua?
The Government of Antigua and Barbuda allows successful business people to gain a second citizenship through investment.
By obtaining the citizenship and passport of Antigua & Barbuda, you will facilitate your trips abroad but you will also have a plan B in terms of safety in case of danger.
The second citizenship offered by Antigua & Barbuda gives you the right to travel to 165 countries without the need of a visa, for example within the Schengen area, the United Kingdom, Hong Kong or Singapore and many more. The Passport will also allow you to acquire a 10 years multiple visa entries for Canada and the United States. Only 5 days of residence following the reception of the passport during the first 5 years will give you the citizenship for life. Obtaining the passport is a fast track-process because it is issued in less than 6 months. Children up to 26 years old are considered dependent by the Government of Antigua & Barbuda. There are no taxes on the capital gain, wealth tax or inheritance tax.
Requirements
Have a net asset (alone or with your spouse or de facto spouse) legally obtained that allows you to pay for citizenship through the investment
No criminal record
OPTION 1: National Development Fund Contribution (NDF)
OPTION 2: Real estate Investment
OPTION 3: Business start-up
OPTION 4: Donation to University of Antigua
OPTION 1: National Development Fund Contribution (NDF)
Applicant can choose a non-refundable contribution ranging from $ 100,000 to $ 125,000 USD depending on the number of people. NDF has been temporarily reduced since November, 1st 2017 following the hurricanes last fall.
In addition, some other fees are add according to the number and the age of the childrens :
– Security backgroud check 
– Processing fees (analysis)
– Passport 
– Professional fees
OPTION 2: Real estate Investment
OPTION 3: Business start-up
OPTION 4: Donation to University of Antigua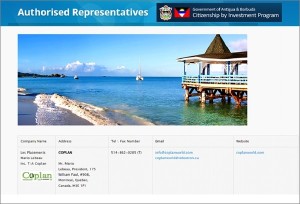 Authorized representative by the government of Antigua & Barbuda
Located in the North of Guadeloupe and South-East of Miami, in the Caribbean.
Accessible by direct flight from London, Toronto or Miami and New York
150
Countries and territories accessible without visa required
Capital
Saint John
Area
442.6 sq. km
Time zone
UTC – 4
Population
94,731 (ranked 197th)
Demography
0-14: 23.36%
15-24: 17%
25-54: 42.31%
55-64: 9.53%
65+: 7.8%
Official languages
English (official language) and creole
Political system
Democratic parliament
Religions
93 % of Antiguayans are Christian, mainly Protestant (81.2%) and 10.5% are Catholic. A popular religion is also practiced by 3.6%.
Currency
East caribbean dollar (XCD) et US dollar (USD)
Citizenship applications received by country of birth inception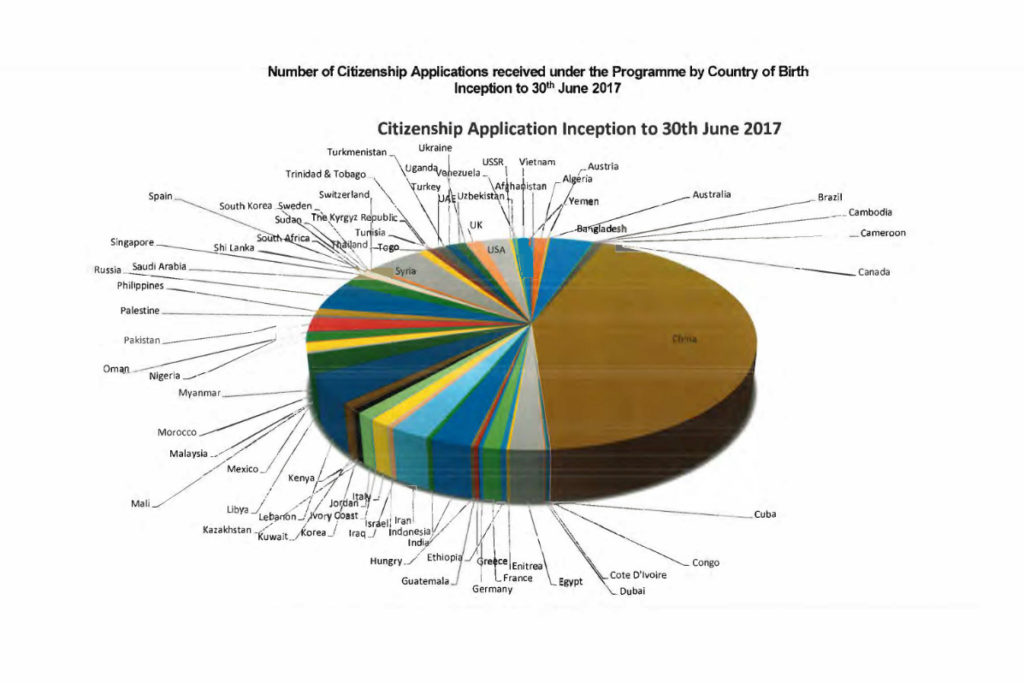 FREQUENTLY ASKED QUESTIONS
The Cabinet of Ministers of Antigua and Barbuda, at the meeting of Wednesday, August 2, 2017, updated the list of limited countries as follows:

afghanistan
Iran
Iraq
North Korea
Somalia
Yemen
Sudan

Nationals of the listed countries are eligible to apply for citizenship in Antigua and Barbuda under the Citizenship through Investment Program after meeting the following criteria:

Persons born in these countries, but who migrated before the age of majority and / or have stayed permanently in Canada, the United Kingdom, the United States, Australia, New Zealand, Saudi Arabia and the United Arab Emirates, for a period of investigation of at least 10 years and does not remain any economic link with a restricted country.

In addition, all applicants comply with the due diligence requirements of the program.

The Antigua & Barbuda Cabinet has taken this position to protect the integrity of the Antigua and Barbuda passport and to ensure that only those individuals whose past behavior does not threaten the well-being of the accepted citizenship program.

At its meeting on December 11, 2014, the Antigua and Barbuda Cabinet decided that successful applicants for Citizenship by Investment would not be allowed to change their name via a Deed Poll or any other means of issuing the Antigua passport. & Barbuda.
Persons traveling to Antigua and Barbuda who would normally require a visa to enter, may obtain a visa waiver upon arrival provided they hold one of the following valid travel documents at a cost of $ 100. US valid for 30 days.

Visa USA or green card
UK Certificate of entry or residence permit
Canadian visa card or permanent residence card
Schengen visa or residence permit